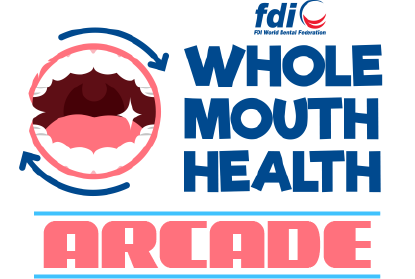 Take a fun journey into the mouth
The more people that play, the more we will find out together.
Ready to play? Pick from below 👇🏼
See how you compare
See the live results of community participation in our activities.
Please note this only includes data where people have given permission for this to be shared.
A global challenge
Oral diseases affect approximately half of the global population (3.58 billion people), and they are the most common noncommunicable diseases (NCDs) worldwide.

Oral diseases impact people throughout their lifetime and have been linked to maternal infections as well as systemic diseases including diabetes and cardiovascular disease.
A collaboration between universities across the world:

The Whole Mouth Health Project is sponsored by:

You are invited to be a part of a worldwide research project
By taking part in these activities, you are part of a global team that is exploring people's understanding of whole mouth health. This project began in Switzerland, the United Kingdom, Australia, Nigeria, and Chile, and is now Worldwide!
We are using Co-Design, a process that is based on 'researching with' rather than 'researching on' people. This means that the activities will change (and get better) as more people add to them, and we build our understanding of the connection with whole mouth health together. To learn more about the project watch this short video.
Ready to start? Jump here to play the games.
For more activities, explore the Whole Body Health platform.